Im going to try to get this to 14, we'll see how that works. Also, these are my favorite books I've read this year, not those that were published this year.
I don't think this will be in any order except for the first two:
(All reviews are linked in the title of each book)
---
I think this book is now my favorite book, that spot used to belong to The 5th Wave, but I think this one is over it just a little bit. It was such a great book. It was my first Rainbow Rowell book, and I'm really glad it was, I'm excited about her other books.
---
2. The 5th Wave by Rick Yancey
Favorite Science Fiction book. If you've been reading for awhile then you know how much I enjoyed this book.
---
I was thoroughly surprised at how much I enjoyed this series, especially this book. It was such a fun read. I'm really looking forward to The Heir.
---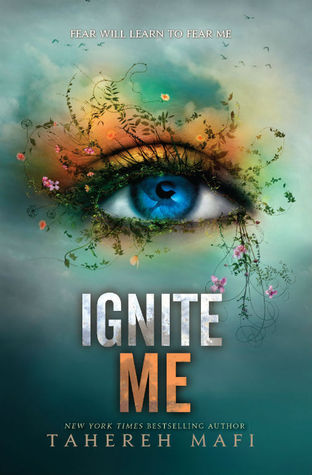 I read the Shatter Me series, this book was so amazing. Ii was written so wonderfully, and it was such a great ending.
---
5. City of Heavenly Fire by Cassandra Clare
No explanation necessary
---
6. The Lunar Chronicles by Marissa Meyer
I couldn't just pick one out of these, the whole series is so good.
---
7. Alienated by Melissa Landers 
I loved this book, it's sci-fi which is one of my favorite genres, it has a great romance and it's really funny.
---
A coming of age, contemporary romance. It was such a nice book. I'll link my reviews for all those books at the end, but I loved it.
---
9. The Infernal Devices by Cassandra Clare
This is my favorite series. Clockwork Princess is my favorite of the three.
---
10. Percy Jackson and the Olympians by Rick Riordan 
 ♥♥♥
---
11. Obsidian by Jennifer L. Armentrout
This book is such a fun ride.
---
12. Vampire Academy & Bloodlines by Richelle Mead
I preferred Bloodlines over VA, but I did love them both.
---
13. Anna and the French Kiss by Stephanie Perkins
Etienne St. Clair is ♥
---
12. Harry Potter by J.K. Rowling 
I got on the train this year, and it's been a thrill so far. I'm on book 5 now and I hope to finish them all soon.
---
---
TV & Movies
I doubt I'd be able to come up with 14 for each category so I'm going to mash the together and see what happens. These are shows and movies that I've started watching or watched in 2014, I might mention a show I'd been watching before, if for example they had an outstanding season this year.
1. Doctor Who – BBC/ BBC America – Saturdays 
This show had taken over my life. The main reason I was in a reading slump was it. I binge watched it on Netflix (the first 7 seasons) and I'm now just starting s8, because I took some time to mourn Matt Smith. I'll make a whole series review post about the show explaining who my favorite doctor was (11), my favorite companions (can you guess?), my least favorite companion (you guys might hate me for it) and my favorite episodes. I'll do it after I'm completely caught up with the show though.
2. The Flash – The CW – Tuesdays at 8/7 c
This show is such a thrill. It's one of the few shows that I actually kept on track on and watched live every week. Although, I haven't watched the last two, because on Tuesday December 9th, their was an episode airing, but that was also the time the Pretty Little Liars Christmas Special was airing, so I obviously watched that instead, and missing that episode kind of threw me off. Anyways, I can say that I prefer this one to Arrow (which I'm also behind on).
3. The Originals – The CW – Mondays at 8/7 c
I actually started watching this show last year when it came out, because I'm a big Vampire Diaries fan and I loved the original family, but I fell behind after the 10th episode, and I just recently finished s1 on Netflix, and I had forgotten how much I loved that show. I know s2 just ended, and it won't be uploaded on Netflix until around the time s3 comes on so I might have to watch it online.
4. The 100 – The CW – Wednesdays at 9/8 c 
I still haven't watched s2 which just ended (I've fallen behind on basically every show I watch) but I did watch s1, and I loved it so much. The CW has some good shows now.
5. Reign – The CW – Thursdays at 9/8 c 
This series is set in 16th century France. I love shows set in this time period, the language and the fashion it's all so elegant. I still have 5 episodes in s1 that I haven't watched and obviously s2 also, but I will soon. If you guys like Outlanfer (which I'm planning on watching soon) or Games of Thrones (I'll start watching next summer) you'll probably like this because they're set around the same time (at least Outlander is) and Mary (seen in the center above) is the queen of Scotland, and I know that's where Outlander is set. Also, this is another one that started in 2013, and I actually started watching it in 2013, but I loved what I've seen so far so much that I had to include it.
7. Once Upon A Time – ABC – Sundays at 8.7 c
So I really loved Frozen, so I was super excited when I found out that OUAT would be including a Frozen arc into the show. I really enjoyed this pass mid-season. It was so much fun. I'm not really as excited for the new Ursula/Cruella/Magneficient arc coming along, but we'll see. I mean Sleeping Beauty is my favorite Princess and Magneficient being there hopefully means we'll see more of her and Philip, and Little Mermaid is my favorite disney movie, so Ursula being there means we'll see more of Ariel.
8. Chasing Life – ABC Family – Mondays at 9/8 c
This show is about April, a 24 year old who finds out she has leukemia. It's a very heartbreaking show, but it's also very entertaining. I really like it. It used to be on Tuesdays at 9, but the next half season starting in January is a the new time. They moved The Fosters to Tuesdays now.
9. The Fosters – ABC Family – Tuesdays at 9/8 c
I honestly think starting watching this show last year when it first came out was one of the best decisions I've ever made. This year it had such a great season too. Guys honestly I cannot stress this enough, even if you don't like TV, please just watch this show. It's not like the other shows, it touches up on real life issues, like adoption and LGBT and foster care and interracial couples. Trust me it's great. I think they moved it to Tuesdays right after PLL because this show and PLL are their biggest shows, and a lot of PLL fans like myself also enjoy this show so they figured we're likely to just stay in front of the TV for the extra hour, and it's more convenient then having to tune in on Mondays at 9 and then again on Tuesdays at 8.
Now Movies 
10. The Fault In Our Stars 
Umm yea, no explanations needed. Here's my review.
11. The Maze Runner 
Loved it. >> Review.
12. MockingJay Part 1 
Funny how all of these are B2M Adaptations >> Review.
13. Veronica Mars 
I haven't read the books, and I haven't seen the show (it's not on Netflix -__-) but I really really really loved this movie.
14. Think Like A Man 2 
That movie was really funny, the first one was funnier but this was really funny too.
…
So that's it, I haven't watched many 2014 releases, or I have and I just can't remember them right now. There are a lot of movies that came out that I haven't seen yet but I want to like If I Stay, The Giver, Winter's Tale… Also, you might be wondering why Divergent isn't on here, well while I did enjoy the movie, I don't think I'd consider it one of my favorites.
---
 Yes, that's it. This post took me a little while to finish. I'm going to hopefully be posting the end of year survey that's going around soon, and I'll be posting my most anticipated 2015 releases. I hope you guys had and have a great holiday.
Xx,
Ashley
---